Back to Class Pages Page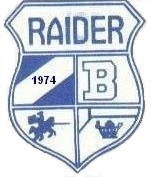 Blue Raiders Defined Spirit Issues
---
School Colors: Silver & Blue
Class Flower: Carnations
1974 Class Colors: light Blue & Dark Blue
---
Class Motto:
"One tomorrow is worth a thousand yesterdays"
---
Alma Mater
Hail to thee Bell High School
We love thee
Loyal and devoted
We will ever be
We will strive to serve thee
With our best in all we do
With our song of praise eternally
For thee Bell High School.
Fight Song
Fight! Fight! Fight!
Come on the silver and blue
Add take that ball across the line
Raiders were pulling for you
We want a touchdown every time.
Fight! Fight! Fight!
Come on you Raiders and fight
Fight on with all your might
For Bell High will win the game
So march on to victory!